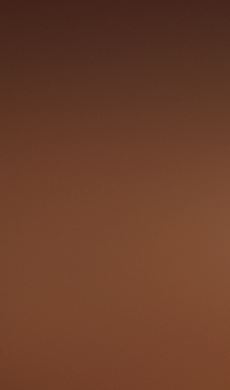 3642 Katella Avenue
Los Alamitos, CA 90720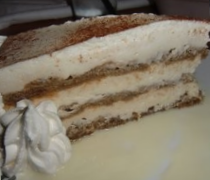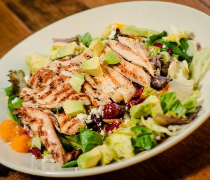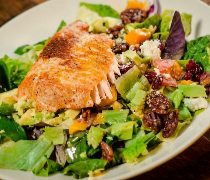 You will love the variety of choices on our dinner and dessert menu. Start your meal off with savory soup, fresh salad, or a tasty appetizer. Choose from amazing foods including burgers, sandwiches, pastas, and of course, our signature steaks that can be paired with your choice of sides.

Irresistible buttermilk battered onions, golden brown and perfectly seasoned. Served with our signature BBQ Sauce.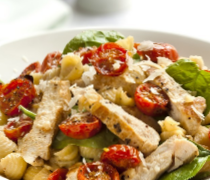 Sunday - Thursday:
11:00 AM - 9:00 PM
Friday - Saturday:
11:00 AM - 10:00 PM

Four kinds of barbeque sauce
Desserts made from scratch
Serving Los Alamitos, surrounding areas of Los Angeles, and Orange counties since 2007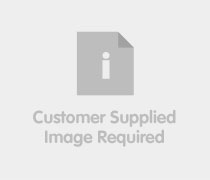 Buffalo or Thai Chili Wings
Tossed in either spicy buffalo sauce or sweet Thai
chili sauce.
Hot grilled Italian sausages and melted cheese baked with your choice of: Marinara Sauce or green Hatch chiles
Served with freshly made chips and hot roasted salsa.
Ribs over Battered Onions
Choose 3 Baby Back, 3 St. Louis or Two Beef Ribs over our golden brown battered onions.
A half onion brick, four spicy wings, and our homemade guacamole, served with chips and salsa, BBQ sauce and bleu cheese dressing.
Mozzarella sticks, potato skins, spicy wings. Served with marinara sauce, bleu cheese and sour cream.
Spinach and Artichoke Dip
A rich blend of cheeses, artichokes and spinach served with fresh tortilla chips and chiles toreados.
Crispy battered calamari served with marinara sauce.
Salad Dressings: Honey Mustard, House Ranch, House Bleu Cheese, Caesar, Balsamic Vinaigrette, Thousand Island, Italian and Red Wine Vinaigrette
Add to any salad: Chicken, Tri-tip, Salmon, Shrimp or Vegan Ribs
Topped with cheddar cheese, bacon, and chives.
Ask your server for today's selection.
A wedge of crisp iceberg lettuce with bleu cheese and red wine vinaigrette dressings, topped with bleu cheese crumbles, tomatoes, red onions, bacon bits and fresh parsley.
Mixed greens, tomato wedges, cucumbers, croutons, parmesan cheese, and your choice of dressing.
A delicious combination of mixed greens, infused cranberries, feta cheese, caramelized pecans and avocado. Served with our signature mango salsa and red wine vinaigrette.
Romaine lettuce tossed in Caesar dressing, fresh croutons, and parmesan cheese.
Mix greens, red bell peppers, cucumbers, Kalamata and green olives, red onions and Feta cheese. Topped with Filet Mignon tossed in our homemade Chimichurri.
Mixed greens, tortilla strips, goat cheese, onions, tomatoes, cilantro, and topped with a grilled chicken breast, a quesadilla and our chipotle dressing.
Mixed greens tossed with cheddar cheese, bacon, diced tomatoes and fried chicken, topped with sour cream and guacamole and served in a tortilla shell.
Spinach lightly sautéed in roasted garlic, olive oil and topped with feta cheese.
Served with French Fries or Cole Slaw
Sirloin patty with chopped lettuce, cheddar cheese, tomato, onions, 1000 island and pickles.
Sirloin patty topped with seared bleu cheese, bacon, chopped lettuce, onions and pickles.
Slow-cooked thinly sliced tri-tip on a French roll with grilled onions, Jack cheese and a side of au jus.
Thinly sliced tri-tip, dipped in au-jus, basted with BBQ sauce and topped with grilled onions, melted jack cheese, and lettuce on a French Roll.
Sirloin patty topped with roasted New Mexico green chiles and Manchego cheese.
Our delicious pulled pork tossed in BBQ sauce on a French roll.
Tender baby back ribs off the bone, topped with homemade mac and cheese and coleslaw.
Bacon, lettuce, tomato and avocado on sourdough bread.
Veggie patty topped with Melted Provolone cheese, Roasted garlic, tomatoes, onions, fresh basil, balsamic vinegar, avocado slices and Merlot mushrooms.
Sirloin patty topped with merlot mushrooms, jack cheese, lettuce, tomatoes, pickles and onions.
Chicken and Jack Sandwich
A juicy, grilled chicken breast with jack Cheese, lettuce, tomato, bacon and mayonnaise.
Sharp cheddar, Manchego cheese, and grilled tomatoes.
All Steaks are corn-fed and aged for a minimum of 21 days,
Served with two side items.
Angus Boneless Ribeye (12 oz.)
Well-marbled and deliciously juicy.
Angus French Bone-In Ribeye (18 oz.)
This hearty bone-in steak delivers amazing flavor.
Angus Full Bone-In Ribeye (34 oz.)
This untrimmed bone-in ribeye is perfect to satisfy a big appetite.
Angus Top Sirloin Steak (10 oz.)
Naturally lean, and bursting with bold flavor.
Prime Flat Iron Steak (10 oz.)
Flavorful and very tender.
Angus New York Steak (10 oz.)
Lean and flavorful striploin.
Prime flat iron topped with New Mexico Green Chiles and sealed with Manchego Cheese.
A tender cut of choice beef.
Scott's Peppercorn Steak (8 oz.)
Filet Mignon rolled in crushed peppercorns, flambéed in brandy and served on a bed of mashed potatoes, topped with asparagus and drizzled with peppercorn sauce.
Filet Mignon topped with 2 ounces of king crab, asparagus on a bed of mashed potatoes, drizzled with béarnaise sauce.
(Temperature will be lower on thicker steaks)
RARE: 125 Degrees- Red, cool to warm center
MEDIUM RARE: 135 Degrees- Red, warm center
MEDIUM: 145 Degrees- Hot, pink center
MEDIUM WELL: 155 Degrees- Light pink center
WELL DONE: 165 Degrees- No pink in steak
Steak, Tri-tip or Fish Toppings
Seared Bleu Cheese, Merlot Mushrooms, Manchego Cheese, Chipotle Crust, or Sweet Grilled Onions5

New Mexico Roasted Green or Red Chiles, Peppercorn Sauce, or Béarnaise Sauce 5

New Mexican Chile seared Manchego Cheese 6
Sweet Mashed Potatoes, Garlic Mashed Potatoes, Baked Potato,

Sautéed Vegetables, Garlic Green Beans,

Corn on the Cob, Corn Fritter, Black Beans, Baked Beans, Dirty Rice, Cole Slaw,

French Fries, Sweet Potato Fries, Roasted Garlic and Feta Spinach,

Home- made Macaroni and Cheese (add green Chiles or Asparagus 2)
Substitute a side for a cup of soup or side salad
Add a cup of soup or side salad to any entrée
All BBQ dishes are served with two side items and topped with our house BBQ sauce. Sweet and Smokey, Spicy Chipotle and Memphis BBQ are available upon request.
Half Rack 24 / Full Rack 28
Tender pork ribs slowly baked and grilled.
Half Rack 22 / Full Rack 25
Juicy pork ribs slowly baked and grilled.
Baby Back Ribs and BBQ Chicken
Six tender pork ribs and one quarter barbeque chicken.
Six St. Louis ribs and two meaty beef ribs.
"Melt in your mouth" tri-tip is slow roasted and thinly sliced. Topped with our barbeque sauce or au jus.
Half Rack-25 / Full Rack-35
A juicy half chicken broiled and basted in our BBQ sauce.
Two boneless Chicken Breasts rubbed with Cajun spices and grilled.
Four ounces of tri-tip, six baby back ribs and one beef rib.
Six baby back ribs, four St. Louis Ribs, and one Beef rib.
Prime Angus Top Sirloin and St. Louis Ribs
Our 10 oz. top sirloin and six St. Louis ribs.
Fresh grilled Mahi Mahi. Served with mango salsa, dirty rice and sautéed vegetables
Fresh salmon broiled in a Cedar plank, rubbed with spices. Served with mango salsa, garlic mashed potatoes and garlic seared green beans
Ten large shrimps skewered with onions and bell peppers. Served with mango salsa, dirty rice and garlic seared green beans
Eight Panko breaded butterfly shrimp served with a side of French fries and coleslaw
Angel hair pasta tossed with olive oil, roasted garlic, fresh tomatoes, marinara, basil and topped with parmesan cheese. Served with Garlic Texas Toast.
Angel hair pasta tossed in our spicy chipotle glaze and topped with feta cheese. Served with a side of our Texas toast.
Fettuccini pasta tossed in a chipotle cream sauce with fresh corn, red bell peppers and a blackened chicken breast. Served with Texas toast.
Our signature chicken enchiladas covered with a creamy tomatillo sauce, melted Jack cheese, sour cream and feta cheese. Served with dirty rice and black beans.
New Mexico Style Enchiladas
Stacked with your choice of chicken, pork or vegetables. Topped with authentic red or green New Mexican chilies, and jack and cheddar cheeses. Served with dirty rice and black beans.
Your choice of bone-in Chicken, Pork or Prime Angus Steak tips covered in red or green New Mexican Chile, served with a side of rice, black beans and flour tortillas.
Perrier Mineral Water, Coffee, Decaf Coffee, Iced Tea,
Tropical Iced Tea, Coke, Diet Coke, Sprite, Mr. Pibb, Root Beer, Lemonade and Fruit Punch.
NON REFILLABLE BEVERAGES:
Your choice of Mahi Mahi, Salmon, Shrimp, Calamari, Tri-tip, New Mexico pork, chicken or vegetarian. Served with dirty rice and black beans.
Pineapple Sunset, Virgin Strawberry Lemonade
A flourless chocolate cake filled with a warm rich chocolate center, topped with vanilla ice cream, whipped cream, and chocolate syrup.
Incredibly light and fluffy. Topped with fresh strawberries, strawberry puree and whipped cream.
Vanilla bean ice cream topped with fresh strawberries, strawberry puree and whipped cream.
Lightly tangy flavor with real key lime juice, pure cream on a tender graham cracker crust.
Layered cake with coffee-infused lady fingers and vanilla.
Baked to order in a baked puff pastry, topped with vanilla ice cream and caramel. (Please allow 12-15 minutes of baking time)
Homemade brownie made with Ghirardelli chocolate
chips, topped with vanilla ice cream, chocolate sauce, whipped cream.
Bananas Foster (serves 2)
Caramelized plantains flambéed with Captain Morgan and banana liqueur served with Vanilla Ice cream and caramel.
Vanilla Bean Ice Cream drizzled with a Sherry from Spain.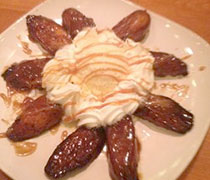 You'll love our Maderas Salad
Healthy salads and soups!
Try our Tiramisu dessert!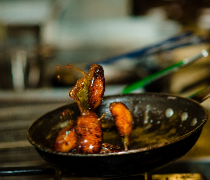 You'll love our Steakhouse Chilles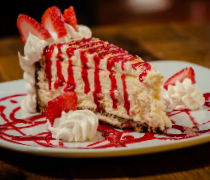 Try our Cheesecake Dessert!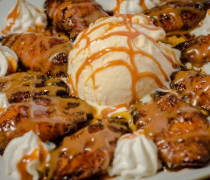 Try our Banana Foster Dessert!